When a live rattlesnake gets loose in your TV studio, you know something hasn't quite gone according to plan.
That's not a metaphor. In the 1960s, one of the ASU courses broadcast by the fledgling Arizona PBS was Dr. Herbert Stahnke's biology course. At the end of the semester, he filled the last few lectures with information about poisonous animals — his area of expertise, as one of his great achievements was developing a scorpion antivenom. During one demonstration, a rattlesnake did get loose on the studio floor.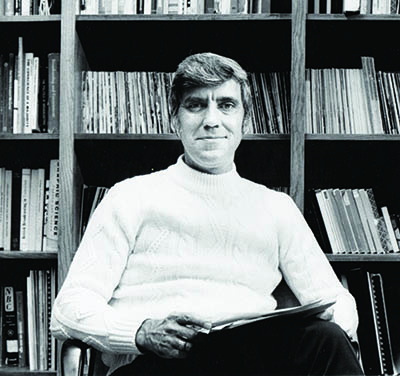 "We had two cameras on the set, and you could tell something was wrong because the cameras were pointing at the floor," Bob Ellis, then the station's general manager, remembered years later. "The student cameramen locked the cameras in position and left the studio. Dr. Stahnke's assistant caught the snake, put it back in its cage and the course went on when the cameramen returned."
The early years of Arizona PBS (then known primarily by its call letters, KAET) were filled with televised college-level courses. Television was still a new format, and ASU wanted to put the new technology to work in education. When Richard Bell, the school's director of broadcasting, first dreamed of starting a public television station at ASU, bringing courses to a wider audience was a key part of his vision.
When Arizona PBS began operating, the first show produced at the station was a Spanish 101 course taught by Dr. Quino Martinez. "He was a natural performer," Ellis said.
In addition to Spanish and biology, telecourses included Business Math, Child Development and American Government. Courses were taught live — at the time it was easier to do them over than to tape them and play them back. "There was a certain romanticism to doing it live," said Chuck Allen, another original staff member. "If the professor got sick, we'd put up a slide saying 'professor out today' with an assignment to read the next couple of chapters in the textbook.
Students on campus who didn't have a TV set in their dorm rooms could watch their lectures on TVs installed on campus. They received course materials and sent back their tests by mail.
Telecourses faced challenges from every angle: cheating was near impossible to prevent, and many students didn't like the format. Faculty members who weren't invited to teach telecourses worried that their jobs would disappear if telecourses became widespread. Fitting 50 minute lectures into television slots that were either 30 or 60 minutes was a point of contention. And then sometimes there were literal rattlesnakes.
For a time, though, the televised courses had a certain amount of success and brought the station national attention from publications such as "Life" and "Ladies Home Journal." But even in the early days, Arizona PBS' programming extended beyond ASU telecourses. When the station first signed on — January 30, 1961 at 4 p.m. — the first day's programming included a community bulletin board, two children's programs, an evening newscast and a film on the scientific method.
Then, as now, not everything Arizona PBS aired was produced locally. Before PBS was established in 1969, Arizona PBS was part of a network of educational television stations.
Because there was no land lined interconnection service, national programs were distributed via a "bicycling" service that mailed copies through the USPS. Programs would be sent to Ann Arbor, Michigan to be duplicated and sent to stations across the country. At the time, the network included about 60 stations, but it was too time consuming to make 60 copies of every program. Instead, copies were mailed from station to station — each station would air the program and send it on to the next. "It was an awkward way of getting national programs from one station to another," Ellis said.
'The Third R'
Taking its mission of educational television seriously, Arizona PBS provided educational programming beyond the ASU telecourses. One example was a series called "The Third R," hosted by Scottsdale mathematics teacher Shirley Frye.
In the mid '60s, math instruction was changing, as it does periodically. Frye was active in local associations of math teachers, which led her to give presentations on "new math" to other teachers and to parents. Contacts she made in these groups eventually connected her to Bob Ellis and Arizona PBS.
The goal of "The Third R" (referring to the "arithmetic" part of "reading, 'riting and 'rithmetic"), was to make teachers and parents comfortable with the new curriculum. Despite the program's name, as a generalization, new math moved away from a grade school math curriculum focused solely on arithmetic, and toward the idea of computation as a tool for problem solving.
Frye and her collaborators came up with a list of eight programs they wanted to present, all topics that were an essential part of the new elementary and middle school curriculum. Their goal was to use as many concrete or manipulative objects or real life experiences to introduce topics like numeration, primes and factoring, Frye said. She hoped to provide other teachers with ways of thinking about and presenting the material, and to give parents some familiarity with the topics as well.
Though she had plenty of experience in front of a classroom, Frye said that presenting to the TV cameras was a very different experience. "You're anticipating a reaction or response," she said.
On several occasions, they brought a group of students into the studio so viewers could see how students reacted to the material. "It was helpful to have the students around to interact with!" said Frye. Only once did they have to re-shoot because a student said something inappropriate for television.
Each episode aired twice each Wednesday: once in the morning for mothers who were at home, and again in the evenings, when teachers and working parents could watch. "To me it was an opportunity to share my love of math and my hope that people would take a different view of teaching and learning mathematics," Frye said.
A snapshot: 1964
A three-ring binder prepared for the Phoenix Chapter of the Academy of Television Arts and Sciences in 1964 offers a detailed look at what the three-year-old station was able to achieve with only ten staff members and a very tight budget. (As one example, sets for an adaptation of Poe's short story "The Cask of Amontillado" were hand-built for less than $50 — approximately $420 today.)
Of those ten staffers, four also taught courses in the Radio and Television department and, according to the report, "all staff members except the secretary run cameras, audio, floor manage and technical direct when the occasion demands, and even the secretary doubles in traffic and continuity." Like today, the small staff was augmented by student workers: In 1964, eight radio-television majors helped with production.
And yet, this small but mighty crew produced over 400 hours of local programs. A large segment of that was ASU telecourses: Business Math, Living World, Physical Universe, Child Development, Personal Finance and American Government. Each course included 45 or 64 45-minute lectures.
The station also produced music programs ranging from chamber music to folk music, as well as art programs, two dramas and a long list of informational programs. These included series on "Gardening for Fun" and "The Ageless Auto" (13 half-hour episodes each), firearms safety (four episodes), space exploration (two episodes) and a five-minute program on "New Bridges in Tempe."
One of the more unexpected offerings from 1964 was a recreation of two baseball games between ASU and the University of Arizona. At the time, Western Athletic Conference rules prohibited live television coverage of major conference events, so Arizona PBS got creative. Announcers Shel Siegel and student Al Michaels (then sports editor at ASU's State Press, now the sports commentator for NBC Sunday Night Football) matched the play-by-play report with a facsimile field, ball-strike-out indicator and running compilation of runs, hits and errors. The Mesa Tribune was unimpressed: "The idea to recreate was grand, but the production itself wasn't the most exciting… It's highly doubtful — unless you're a salt of the earth baseball fan — that you would stick around the full nine innings of a reconstructed game."
'Horizon's' predecessors
In recent decades, Arizona PBS has produced public affairs programs that we take great pride in, but early attempts were among the station's clunkers. In Ellis' estimation, while some of the telecourses may not have been great television, the worst local program Arizona PBS offered in the early years was "Day in Review."
"We had a half-hour to fill from 5 to 5:30 each evening, so we came up with the idea of presenting a half-hour newscast," Ellis said. "At that time, the other television stations were only doing 15 minute local newscasts."
Unfortunately, the program exposed the station's thin resources: The team had access to a news wire, but no visuals.
"So," Ellis said, "we had to improvise." The team obtained permission to use photography from "Life" magazine, and they had a collection of teaching materials, courtesy of Ellis' wife, Frankie Jo, a fifth grade teacher.
"As an example," Ellis said, "if a plane crashed, we would scour our 'Life' copies and Frankie's box for any plane, and I would say 'a plane, something like the one shown' — maybe it was a WWII flying fortress — crashed today in…' It was really a radio newscast with some outdated pictures."
Weather was presented by Chuck Allen using a lazy Susan that rotated to show maps of Phoenix, Arizona and the United States. A stock market report from Shel Siegel used a lantern slide background of the New York Stock Exchange and a rotating disc on which secretary Jean Cole would write prices of the top 50 stocks each day.
"The lantern slide was a rear screen device that used a big bulb for illumination," Ellis said. "If the bulb was left on too long, it would burn the slide. Every once in a while, the New York Stock Exchange would dissolve on the set."
The sports report was the best part of the show, Ellis said, because Siegel could always get an ASU coach to be his guest. When Siegel couldn't do the show, his back-up was student Al Michaels, now of NBC.
After a season or two of this, the commercial stations started their own half-hour newscasts — with reporters, outdoor cameras and good visuals. "It was time to deep six 'Day in Review,'" Ellis said.
1967 saw another attempt at public affairs programming in the form of a panel-discussion show called "Thursday at Nine." (Guess when it aired. -Ed.) Each week, viewers were encouraged to call the station with their opinions on a particular current affairs topic.
The program tackled a number of controversial subjects, from sex education to the Black Panthers to changing views on the Vietnam War. In one case, a discussion with representatives of Elijah Muhammad's Black Muslim organization, Nation of Islam, prompted so many calls, they continued the program until after midnight.
In Ellis' view, "Thursdays at Nine" "set the framework for people accusing us of being leftist." Irate viewers not only called the station, some also called Ellis at home, or called the ASU President to complain.
In living color
In the late 1960s, stations across the country graduated from black-and-white and started using color sets. To lobby for funds to upgrade Arizona PBS to broadcast in color, the staff arranged for a color TV set to be delivered to ASU's president, Dr. Homer Durham. As Ellis remembered, Dr. Durham "watched TV only on a selective basis, but he soon noticed what a disadvantage it was for Arizona PBS to be broadcasting in black and white when everyone else was in color."
So, he said he'd help.
"We got a matching grant from the federal government by means of the Public Television Facilities Act," Ellis said. "Dr. Durham got the ASU matching dollars and Arizona PBS converted to color with a new tower, transmitter and studio equipment."
Moving forward
By the end of the decade, Congress had passed the Public Broadcasting Act, which created the Corporation for Public Broadcasting to fund educational radio and television. The CPB, however, could not own or operate a network. It was the stations that formed the Public Broadcasting System in 1969 and ran it, while CPB allocated funds to the stations via grants. The same year saw the launch of interconnection for public television, connecting 150 stations through a landline link. The "bicycling" system of program distribution became a thing of the past.
ASU's telecourses also began to disappear from Arizona PBS' schedule. Though a small number lingered on into the '80s, the concept had never been an overwhelming success. With the new PBS system in place and the capabilities of new technology, Arizona PBS was ready for fresh experiments.
Our thanks to Bob Ellis and Shirley Frye for sharing their memories and to Mike Fimea's essay "Channel 8 and the Evolution of Public Television" for helping us tell this story. Thanks to Griffin Fabits for writing early drafts of this piece.
This story was originally published in the Winter 2020 issue of Arizona PBS magazine.